Tiger Lifting Beam Clamp With Shackle
BCS Model
Capacity: 1,000 - 10,000 kgs
The BCS Model Tiger Lifting beam clamp is designed to provide a versatile and quick rigging point for all types of lifting equipment with the benefit of a swivelling anchor point.
These Tiger beam clamps offer a wide, easily adjustable, jaw capacity, which, again lends itself to a variety of applications. 
These units meet and exceed all the requirements within BS EN 13155:2003+A2:2009 and AS4991.
Features at a Glance 
Range from 1.0t to 10.0t
Highly flexible – for lifting, pulling or as an anchor point
Operating temperature of -50° to +50°
Quick and versatile rigging point for hoisting equipment
Multidirectional adjusting screw spindle for easy attachment and safe and secure grip
5:1 Safety factor
Shackle suspension point
Wide Beam flange adjustment range
Certification
Each unit comes fully certified with a test certificate or an EC Declaration of Conformity stating compliance with the essential health and safety requirements of the Machinery Directive 2006/42/EC.
Reduction in working load limits when side loads applied:
| | | | | |
| --- | --- | --- | --- | --- |
| Angle from vertical | 0° | 0°   - 15° | 15°   - 30° | 30°   - 45° |
| Reduction Factor | Nil | 17% | 34% | 50% |
| Product Code | WLL | WLL | WLL | WLL |
| BCS-0100 | 1000kg | 830kg | 660kg | 500kg |
| BCS-0200 | 2000kg | 1660kg | 1320kg | 1000kg |
| BCS-0300 | 3000kg | 2500kg | 2000kg | 1500kg |
| BCS-0500 | 5000kg | 4100kg | 3300kg | 2500kg |
| BCS-1000 | 10000kg | 8300kg | 6600kg | 5000kg |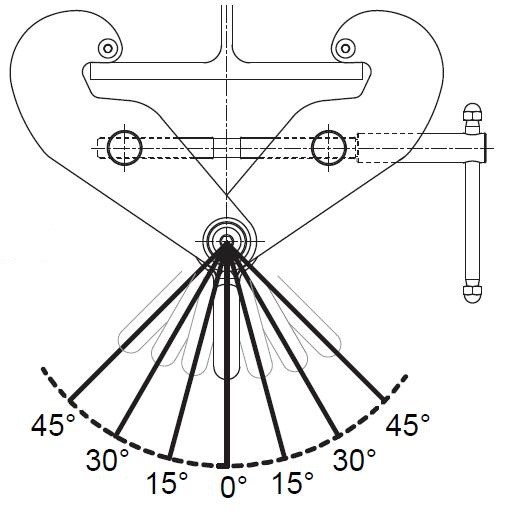 The above working load limits and derations have been established for Tiger BCS model clamps and apply only for overhead beam attachments. They DO NOT apply when used for lifting beams. Our Tiger BCU clamp has been specifically designed for this purpose. The above tables apply only to the Tiger BCS model and we advise that structural calculations are carried out on all beams and supporting steel work by qualified engineering departments to ensure safe operation.
Note: Some stock in the 1t – 5t range may be supplied with a bow shackle rather than a D shackle (as in the drawing of the 10t unit below). If the fitting or dimensions are critical please contact us for information on availability.
How much does delivery cost?
There are three parcel sizes: small, medium and large. Prices, based on location, for each parcel size are as shown below.
Small: 0 to 20 kg
Medium: 20 kg to 40 kg
Large: 40 kg +
There is only one parcel charge per order.
Your delivery charge is calculated during checkout.
Service

Size

Small

Medium

Large

Collect From Hoist & Winch Limited - Redditch

FREE

FREE

FREE

Freight Delivery

UK Mainland

£14.99
Export orders outside of UK mainland your carriage cost will be quoted separately after order placement. For very large order sizes, we reserve the right to re-quote the delivery charge before acceptance and shipment of your order.
When will I receive my order?
We will make contact with you to arrange a delivery time upon receipt of your order either by telephone or email; we will endeavour to deliver at the agreed time however, we cannot guarantee delivery dates and times as these may be affected by circumstances outside our control.
We will do our best to contact you if we are forewarned of delays.
Stock items should normally be delivered within 5 working days from date of order placement, but it may often be sooner. For non-UK-Mainland orders, delivery time may be longer. For items currently out of stock delivery will usually be within 28 days.
For urgent orders please check for an up to date delivery time prior to order by either emailing [email protected]k or telephone: 08450 171 126
Will all of my goods be sent at the same time?
We will pick all your items together and ship your order at the same time. However, depending upon the size of the order we may ship the order in more than one package. Consequently you may not receive all of the goods/packages at the same time. If you order an item which is marked 'pre-order' we will not usually dispatch your order until your whole order is ready. Please let us know if you'd like part of your order dispatching sooner, and we will of course be happy to help.
When do you normally attempt deliveries?
Small and medium parcels are usually sent by Courier. Large parcels are sent by a Pallet network courier, who deliver Monday to Friday, typically between 8:00am and 5:30pm.
Gaining Access to Delivery Address
If we are unable to gain access to the agreed delivery address we will return the goods to our warehouse and make contact with you to re-arrange delivery. Unfortunately in these circumstances we may have to charge you a further delivery fee
How do I track my delivery's progress?
Please contact our sales team on [email protected]
Where will my order will be delivered?
Delivery will be made to the address of the registered debit/card holder used to place the order. Alternatively, an alternative delivery address can be agreed post order, please contact via email: [email protected]
Unloading
Suitable means of unloading heavy loads must be provided by the customer upon
Tiger BCS Beam Clamp With Shackle, Up to 10t Swl
Need Help?
Get in touch with us.