Installation, Commissioning, Testing and LOLER Certification
Hoist and Winch Ltd offer a complete Installation, commissioning & testing service for all the products we supply.
Based on our past experience in many cases we can supply an initial budget cost with our offer for the installation, commissioning & testing aspect of your chosen products. This initial budget cost would normally be subject to a pre-installation site survey as noted below.
Just prior to the installation work being carried out we will normally survey the installation area with our customers point of contact to agree the installation method, means of access and any services to be provided or removed by the customer.
In some case this survey work can be carried out remotely from customers site photographs if the installation work is less complicated or restrictions for arranging a site meeting are present e.g. timescale issues or physical access arrangements.
For manual and powered hoist units of all sizes we can generally offer an installation method which does not require a crane or other specialist lifting means to be brought onto site to actually lift the hoist unit into position. This will often involve the use of our specially designed "TEE" shaped lifting frame which can generally be mounted onto the top flange of a hoist unit runway beam.
For jib crane and light crane system installations, in most cases we can use the customers own Fork Lift Truck or Telehandler to lift the new equipment into position in order to reduce costs, whilst for overhead crane installations it will generally be the case that a mobile crane will need to be hired in for the 1st day of the installation work.
In certain case's subject to verification the customers roof structure can be used as a support point for temporary manual, electric or air powered hoist units used to facilitate the new equipment installation.
Access for working at height will generally be either by aluminium mobile scaffold tower, fixed scaffold access or MEWP (Mobile Elevated Work Platform). All our site engineers are trained, certified and licenced to carryout mobile scaffold erection (PASMA) and to drive a MEWP (IPAF).
Fixed scaffold erection if required will require a 3rd party specialist scaffold erecting contractor to be used and either Hoist and Winch Ltd or the customer can arrange this to Hoist and Winch Ltd instructions.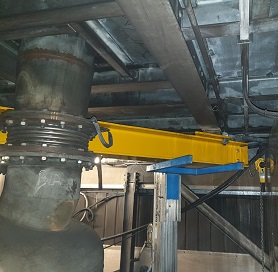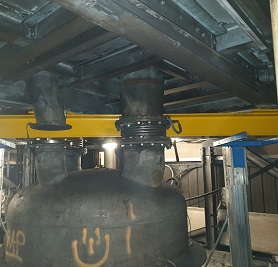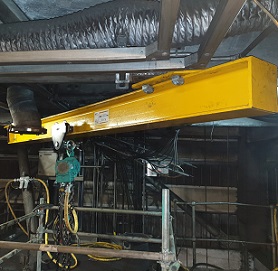 We have an extensive range of rigging equipment required to carry-out a wide variety of installation work and this is included in in our costs, whilst in certain cases when necessary specialist items of rigging or lifting equipment can be hired in to provide specific functions.
As part of all new lifting equipment installations a LOLER Inspection is required in order to certify that the installation work has been carried out correctly and that the installed equipment is safe to be put into service.
As part of our installation, commissioning & testing service we can provide the required LOLER Inspection service. In most cases this will require the new equipment to be physically load tested on site prior to being put into service and again we can provide the hire and transportation of a suitable test weight load as part of our scope of supply.
Once the installation method is agreed with the customers in all cases Hoist and Winch Ltd will issue a written Risk Assessment and Method Statement (RAMS) prior to commencement of the work.
Pre -Order Installation and Dimensional Surveys


For the more demanding projects we are available to attend site at the tender stage in order to view the installation area and carryout dimensional surveys for the equipment to be installed in order to confirm suitability in terms of running clearances and headroom.