Supply, Installation and Load Testing of Yale Electric Powered Chain Hoist & Hoist Runway Beam For Cement Production Industry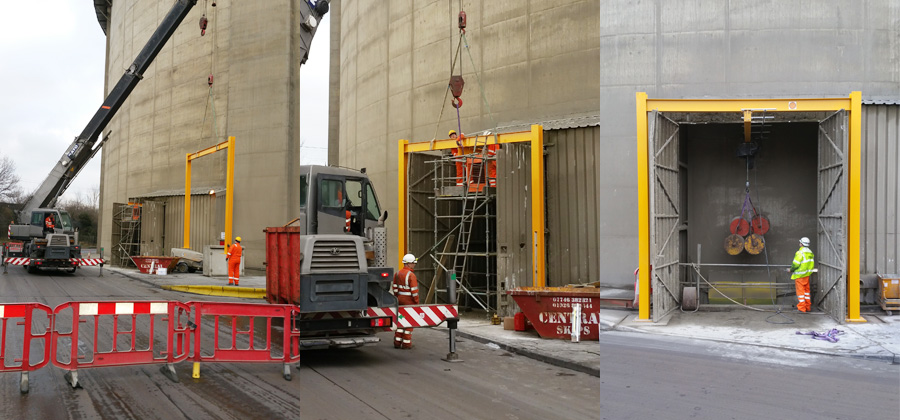 The customer requested that Hoist & Winch Ltd design and install a new 2t Swl rated lifting beam system to be bolted to the face of the very large concrete silo structure shown in the photograph and to be used for general maintenance duties and also to handle slurry contained in slurry carts and produced as part of the cement production process.
Following order placement, Hoist & Winch Ltd carried out a final detailed survey in order to allow production of manufacturing drawings and a General Arrangement Drawing for approval in order to confirm the details of the equipment to be supplied, and to verify the end client requirements before manufacture commenced. (This is Hoist & Winch Ltd standard practice on work of a special or project type nature)
The design brief included provision of design loads to be applied by the new steel structure to the face of the silo and to the new required front goal post concrete floor mounting pads. This included coordination with site civil engineers in respect of the loads applied and in respect of the design and provision of the new front goal post concrete floor mounting pads.
The means of connection of the front goal post floor mounting plates to their respective new concrete floor pads and the connection of runway beam silo face mounting plate to silo wall was via resin anchor fixing specified by Hoist & Winch Ltd
The survey work for the positioning of the new electric chain hoist runway beam relative to the existing doorway shown in the photograph and the new goal post floor mounting pads needed to be very precise to ensure correct fitment at the first attempt bearing in mind mobile crane hire charges and need to complete all work in a timely fashion.
Manufacture and installation was over a 12 week period which also included load testing of the complete installation. To facilitate the installation work, Hoist & Winch Ltd worked closely with the site scaffold contractor who was required to provide a safe working platform for the installation of the new hoist runway beam.
The site based mobile crane was used to lift both the new front goal post structure and electric powered chain hoist runway beam into position and in addition a MEWP was used to access mounting bolts as required
As the installation photograph indicates the new front goal post structure was first assembled whilst laid out on the floor before being lifted into position with the mobile crane.
The electric powered chain hoist unit installed was a Yale CPV/F 2t Swl, with IP55 protection and fitted with a weather cover for outdoor use
On completion Hoist & Winch Ltd issued a LOLER Thorough Examination Report for the completed electric powered chain hoist and runway beam installation work.
The harsh Cement Industry conditions and resulting closely monitored working practices call for very stringent planning of all work activities and therefore all on site work has to be very carefully documented with Risk Assessments and Method Statements which are reviewed/agreed by the site engineers before any work can commence.
Supply, Installation and Load Testing of a Yale Electric Hoist & Hoist Runway Beam and supporting steel work.