Light Crane System and Monorail Beam With Electric Hoist Installed in the U.K.
This project called for Hoist & Winch to design, supply and install 150 Kg Swl Profile Track Light Crane & Monorail Runway Beam systems fitted with electric powered chain hoist units for two separate engine assembly areas.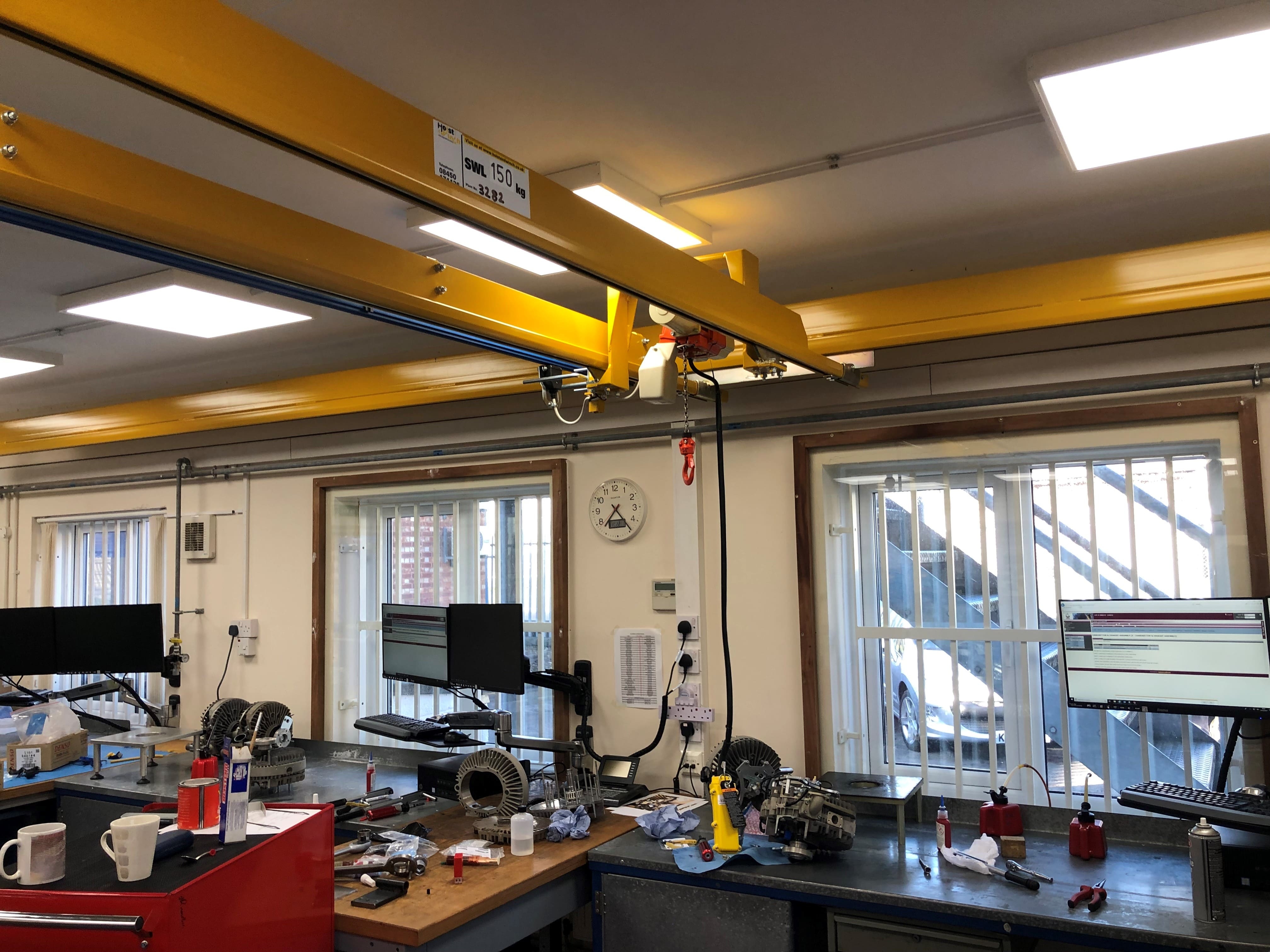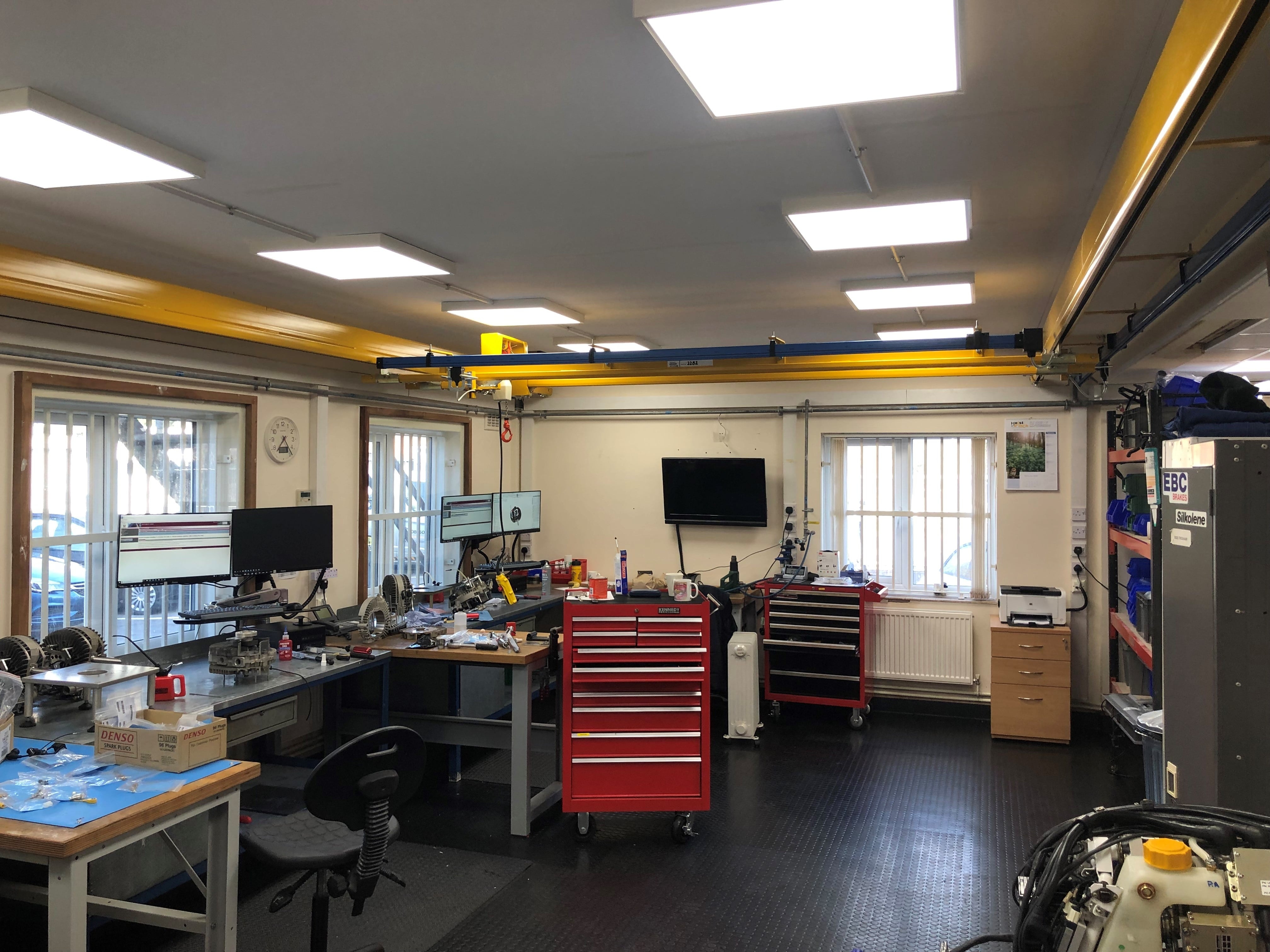 This project presented some unusual challenges due to the fact that both installation areas had a very low ceiling in this clean area environment which was originally designed as ground floor office space with a reinforced concrete ceiling.
With only 2300 mm floor to the underside of the false ceiling the key requirement was to maximise the available headroom. The aim being to provide the maximum load hook height to allow handling the engines onto work benches and into relatively tall packing cases on completion, whilst simultaneously keeping the steelwork of the lifting system structures above head height.
Maximum lateral & longitudinal hook coverage was also a requirement in one area, whilst a means of providing longitudinal hook coverage over four work bench areas was a requirement in the second area.
Over several meetings various proposals were presented to the customer with much discussion centred around maximum hook height and how best to achieve this requirement. The final design solution being a Profile Track Double Girder Raised Crab Unit Light Crane System in area one and a Profile Track Monorail Runway Beam system in area two.
Additional headroom of 390 mm was made available in both areas by removing the false ceiling completely in area one to allow the installation of the Double Girder Raised Crab Unit Light Crane System and creating a 550 mm wide Pocket in the false ceiling for area two (Please refer to our Installation photographs).
After a test drilling investigation procedure in both areas, the lifting systems were designed to be supported from the existing reinforced concrete ceiling by stools each anchored into position using chemical anchors.
At the design stage, all dimensions were very carefully measured using tape and laser in order to maximise the hook heights and avoid various services which had to remain in position. During installation, use of a laser and chalk line ensured correct alignment of all stools and profile track sections.
In area one a maximum load hook height of 2175 mm was achieved whilst in area two a maximum load hook height of 1950 mm was achieved
Both systems utilised Light Profile Track Construction which provides ease of movement with very low friction push/pull cross and long travel movements.
A Buzz Bar type conductor bar was utilised for the main power supply feeds for both installations to avoid the need for any hanging cables which could cause a reduction in headroom clearances or create cable ambush areas which would restrict maximum hook coverage.
The customer preference was for 240 v Single Phase Electric Powered Hoisting and in this case, high quality Kito ED Series Hoist units were supplied offering two speed raise/lower speed control of 8/2 m/min.
Installation was by Hoist and Winch Ltd Site Engineers who used SL 10 Genie Lifters for the steel work structure installation, which created another challenge regarding how to manoeuvre the Genie Lifters into position along various narrow corridors and through standard width/height door frames.
Finally cleanliness was also very important in this Clean Room Environment and therefore all work was very carefully carried out in order to minimise disruption and dust creation.
Summary Of Specification Details
150 kg Swl Ceiling Mounted Profile Track Light Crane System with 4m crane span and 6m long travel
150 Kg Swl Ceiling Mounted Profile Track Monorail Runway Beam system with 9m long cross travel
150  kg Swl 240 v single Phase Kito ED Series Hoist units for Hoisting Motions  
Heavy Duty Lever Type Top limit switch for highest hook position
Very low friction push/pull cross and long travel movements
Buzz Bar type conductor bar for power supply feed
Yellow Powder Coat Finish for crane and monorail runway structures
Low Level Wall Mounted Main Electrical Isolator Switch
Installation, Commission and Load Test including Field Wiring
On completion Hoist & Winch Ltd issued a LOLER Thorough Examination Report for both completed installations.