25 t swl Air Hoist and Powered Trolley
Used In Cement Industry.
This project called for Hoist & Winch to install 4 x 25t swl RRI air hoists with powered trolleys.
Location – UK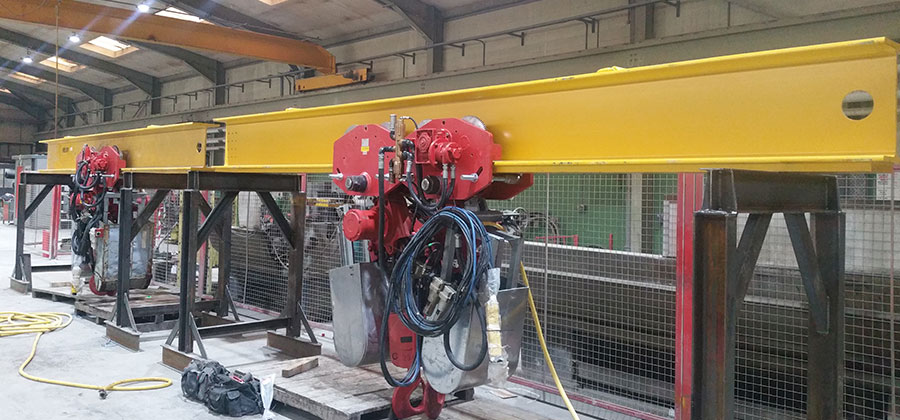 4 Off RRI 25 t Swl Air Chain Hoists with Air Powered Trolley
Hoist and Winch Limited have had a very busy start to 2017, having been involved with two major plant shutdowns at UK Cement works, alongside routine work and planning ahead for other projects over the next few months.
This included assisting with the installation, commissioning, overall planning and implementation of a special 4 point lift using 4 Off 25t swl air hoists in order to remove a worn item of plant weighing in at 70t, and the installation of a new replacement item of plant.
Working as a sub contractor for another major UK lifting Equipment company this project was very challenging and included coordination with the overall site project manager and the site engineering contractors, whilst advising on key issues such as:
• Certification
• Load testing
• Inspection
• Lift management
• Very tight dimensional clearances
• Individual hoist load measuring and monitoring equipment
The end result was that both lifts were completed safely, successfully and in a short time scale to the customers satisfaction.
We understand that this is only the second time this particular heavy lift has been carried out in recent history in this industry in the whole of Europe.
The critical nature of the project resulted in very closely monitored working practices calling for very stringent planning of all work activities and therefore all on site work had to be very carefully documented with Risk Assessments and Method Statements which were reviewed and agreed by the project manager & Health & Safety Dept before all work commenced.
Contact Hoist and Winch Limited for your special lifting application projects.