End Client: Environment Agency
Location – River Thames - London, UK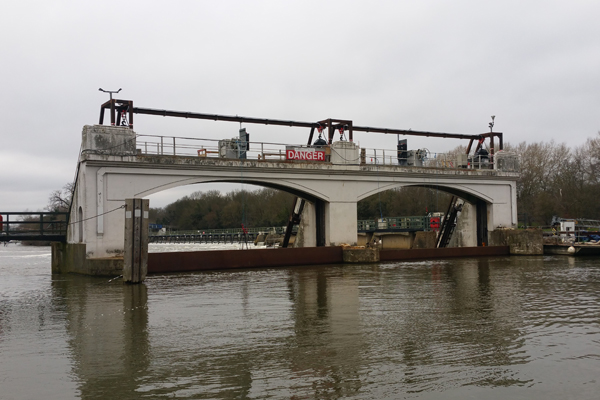 Project Overview
The hoist units are to be used to temporarily lift a pair of sluice gates weighing 12t each, which are part of the flood prevention defences on the outskirts of London. These allow the upstream river levels to be controlled at times of very high rainfall, and therefore the reliability of the equipment is of a very critical nature.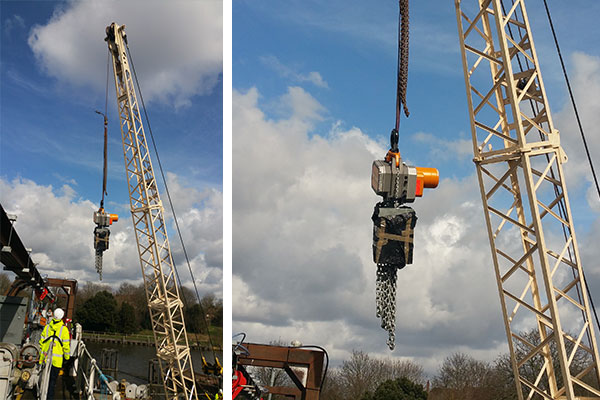 Working for a large engineering contractor who are refurbishing the permanent sluice gate lifting gear, these two sets of PLC controlled tandem lifting hoist unit systems were designed by Hoist & Winch to the customers precise requirements after a site meeting to initially view the application, and then over a period of approximately 10 weeks as the specification was developed and finally approved prior to manufacture.
This specification approval process involving H & W customer, the Main Contractor & the Environment Agency.
The finalised design of lifting system ensures that each pair of tandem lifting hoist units lift the sluice gates in a level position and include the various operational/ safety features as noted below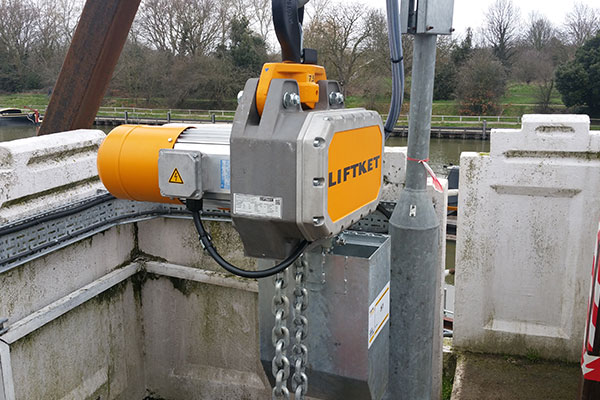 Electric Chain Hoist Specification Overview
2 x Pairs Of Liftket 8000 kg Swl Two fall electric powered chain hoists De-rated and marked to 7500 kg Swl ( Per Sluice Gate System )
Hoist suspension to support structure by 10t Swl Tiger Beam Clamps
Single slow speed hoist operation at 0.7 m/min
Single operator pendant control for general use (tandem raise , lower & E stop functions only)
Special supervisor use only single pendant control c/w selector switch to allow individual operation of either hoist unit 1 or hoist unit 2
PVC Outdoor weather covers for hoist units and control panels
Over temperature protection sensors embedded in the hoist motor windings
Secondary hoist holding brake to allow the hoist units to hold a suspended sluice gate load for periods of time varying between 1 day to 4 weeks depending on river levels
Encoders fitted to each hoist unit to allow individual  hoist unit load hook level monitoring
Central main control panel c/w PLC control monitoring of each pair of electric chain hoists with features as noted below
Field power and control circuit cable feeds to  each hoist unit including galvanised steel cable tray-work
Low headroom chain slings for connection of hoist unit load hook to sluice gate lifting point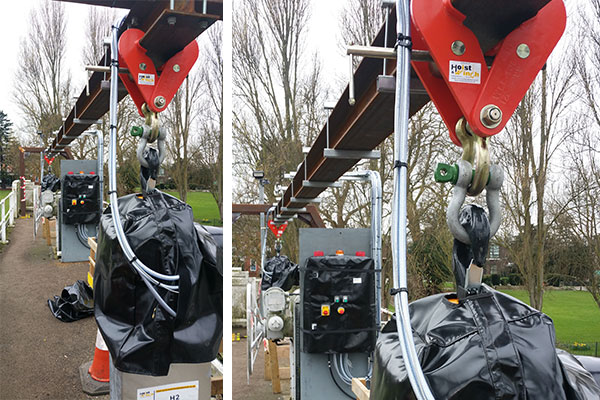 PLC Control System Specification Overview  
Siemans PLC
Limit switches for sluice gate fully open and fully closed positions
Ultimate ( failsafe ) top & bottom sluice gate position limit switches
Sluice gate % open HMI Reading
Automatic hoist load hook realignment feature (hoist 1 to Hoist 2) to ensure level sluice gate lift within a 25 mm tolerance
Closed loop hoist control hoist 1 to hoist 2 to meet Tandem Lifting Regulations EN15011
Various  failsafe warning  fault alarm/hoist shutdown features including sluice gate misalignment ( due to unforeseen exceptional circumstances ) ,  SWL overload (in the event that the sluice gate jams due to river debris) etc etc
Operation history feature on the HMI to record hours run, number of operations and fault history
PLC override system to allow manual pendant control without PLC features using 2 x hoist operators & 2 x  pendant controls (Ultimate & service  limit switches still active in PLC override mode)
This was another very challenging design and  installation project due to the critical nature of the application, exposed remote outdoor location, and other factors including all equipment having to be lifted into position from the river level onto the sluice gate hoist support structure using a supply boat and barge crane.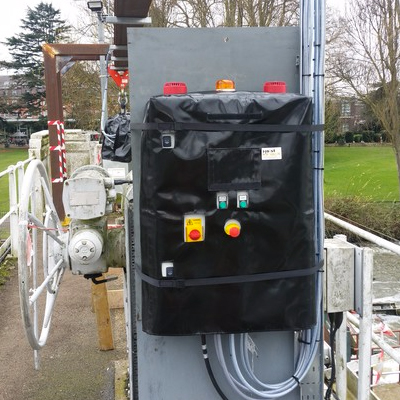 The critical nature of the project resulted in very closely monitored working practices calling for very stringent planning of all work activities and therefore all on site work had to be very carefully documented with Risk Assessments and Method Statements which were reviewed and agreed by the project manager, site engineers & Health & Safety Department before all work commenced.
This type of tandem lifting system design could also be used for other applications requiring very precise/failsafe level lifting including:  special purpose steel door lifting including blast doors used in EX/Hazardous environments and handling very valuable/delicate long loads in various manufacturing industries etc etc
Contact Hoist and Winch Limited for your special lifting application projects.